We are pleased to announce that we will be sponsoring the first ever Mayor's Charity Festival!
The event which take place on on Sunday 8th July between 11am – 4pm at  Fareham Town Football club has been set up to help to help raise funds for the Mayors sponsored charity, Wessex Heatbeat. This fun-packed festival promises to have something for the whole family from Live Music, Zumba and Barn Dancing to Cake Stands and Craft Stalls. There will also be a spectacular display of Harley Davidson's opening the event*.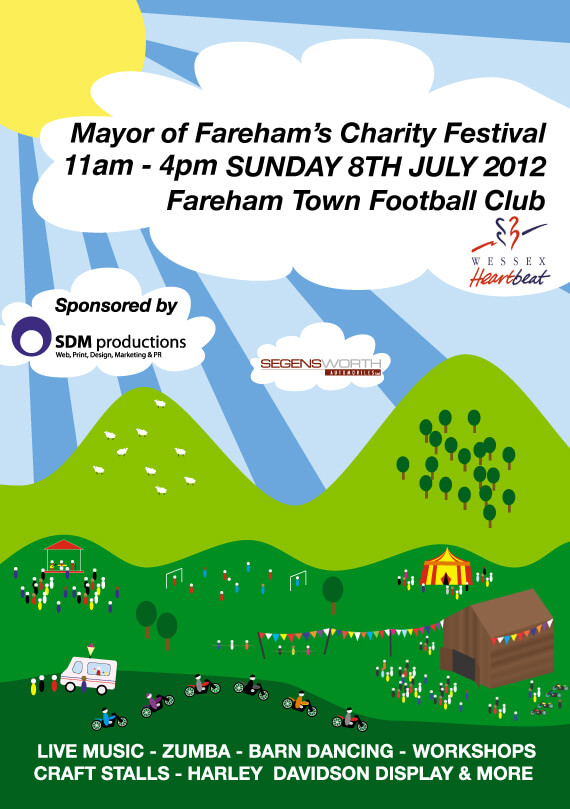 Event Timetable
11:00 – 11.30                         Street Dancers
11:45 – 12:15                         Frontliners
12:30 – 13:00                         Shannon
13:15 – 13:45                         Zumba
14:00 – 14:30                         Kevin 60s
14:45 – 15:15                         Folkosaurus
15:30 – 16:00                         Barn Dance
Proceeds generated from the Fareham Mayor's Festive will be donated to The Wessex Heartbeart Charity.
Tickets to the event can be purchased on the gates on the day for just £1 and if you are interested in hosting a stand at the event for a cost of £10.00, please Contact Rhianon, for a Request Form.
The Wessex Heartbeat Charity, established in 1992, is one of the region's major charities and exists to support the work of the Wessex Cardiac Centre (WCC), one of the UK's leading heart treatment centres. Since 1992, the generosity of  supporters at all levels has enabled the charity to raise over £13m which has helped to ensure that the best possible care is provided to more than 20,000 patients treated at the Centre each year.
*Please note that the roads surrounding Fareham Football Club will be closed during the Harley Davidson Ride Out.